The VX-Tractor Road Run is coming! 9th - 27th September, 625 miles, 10 locations
Don't miss the chance to see the VX-Tractor in action! Speak to our technical team and learn everything you need to know about tractor tyres, how to preserve your soil, how to increase the longevity of your tyres and ultimately increase your profitability.
VX-Tractor Road Run is travelling at the following locations:
Day 1 - Coldstream, September 9, 2019


Thomas Sherriff, Orange Lane, Scotland, TD12 4LY
Day 2 - Lillyhall west Workington, September 10, 2019


Gates tyres - Team Protyre, Hallwood Road, Cumbria, CA14 4JR
Day 3 - Letch Lane, September 11, 2019


Peter Shepherd Tyres / Ripon Farm Services, Willow Bridge Works, Carlton, Stockton-on-Tees, TS21 1EB
Day 4- Market Weighton, September 12, 2019


Ripon Farm Services, Holme Road, York, YO43 3EW
Day 5 - Grantham, September 13, 2019


Sharmans Agricultural Ltd, Tanvic Tyre and Service Centre, College Farm , Gonerby Moor, Lincs, NG32 2AB
Day 6 - Fakenham, September 23, 2019


Kingsway Tyres Fakenham, South Side, Hempton Road, Norfolk, NR21 7LA
Day 7 - Thaxted, September 24, 2019


Brocks W&T, Woodhams Farm, Cutlers Lane, Great Dunmow, CM6 2RH
Day 8 - Milton Common Thame, September 25, 2019
Farol Ltd, Rycote Lane Farm, Oxfordshire, OX9 2NZ
Day 9 - Piddlehinton, September 26, 2019


C.Smart Agricultural Services, 51, Enterprise Park, Dorchester, DT2 7UA
Day 10 - South Molton, September 27, 2019


North Devon Tyres, Bucknell Way, Pathfinder Business Park, Devon, EX36 3LH
Register now to participate in the Road Run and discover the VX-Tractor in action,
The Bridgestone team will be pleased to welcome you and will be happy to discuss with you.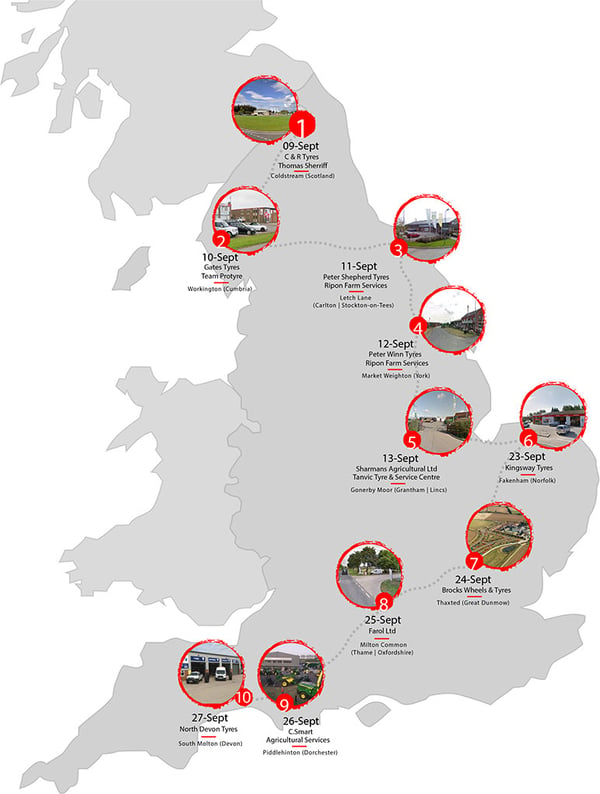 ---
For any questions, we remain at your disposal,
Feel free to fill out the form below or call us directly on 01926 310810
Fill in the form to register at a location of your choice and download your invitation