Can I really go for Miles, & Miles,
& Miles?
Yes, with Bridgestone.
As a farmer or manager, cost control and optimization are essential.
And you know that it's no longer about "spending less" but rather
"investing more wisely".
Let's discover Richard Bradley experience with VX-TRACTOR!
At his farm in Lancashire, Mr Bradley fitted his John Deere 6150R
with VX-TRACTOR Bridgestone tyres. After 1200 hours, the expected tyre life is two times as long for front axle and three times as long for rear axle.


Look at Mr Bradley feedback on VX-TRACTOR:
"Really smooth ride, confidence driving around corners,
an excellent gripping tyre"
"The life of the tyres looks very impressive compared
to the original tyres - A great purchase"
How do you make driving on the road safe and improve your tyres' lifespan?

Vous pouvez aussi nous appeler directement au 01 69 19 27 04

Download your FREE
GUIDE for Productivity
& VX-TRACTOR brochure

Bridgestone has developed the VX-TRACTOR range with the most advanced technology to obtain the best performance possible.
This new generation tyre is enhanced by the advanced technologies developed exclusively by Bridgestone:
Long, wide and deep lugs for more wear-rubber volume: up to 20% more lug volume than competitors1.
Better resistance to wear thanks new Bridgestone compound Robust casing to offer you outstanding durability.
VX-TRACTOR range: a single model for 57 sizes, from standard to Extra Large.
Bridgestone is offering a 10-year warranty on its agricultural tyre products from the date of purchase2.
1. Based on Bridgestone measurement tests conducted on Bridgestone VX-TRACTOR, Michelin MACHXBIB and Trelleborg TM900 on 710/70 R42 and 600/70 R28 tyres.
2. Warranty subject to conditions. Ask your Bridgestone dealer for more details.

Are you interested to know more about VX-TRACTOR?
Meet the Bridgestone Team
Our dedicated agricultural sales team is here to help you
when you're out in the field.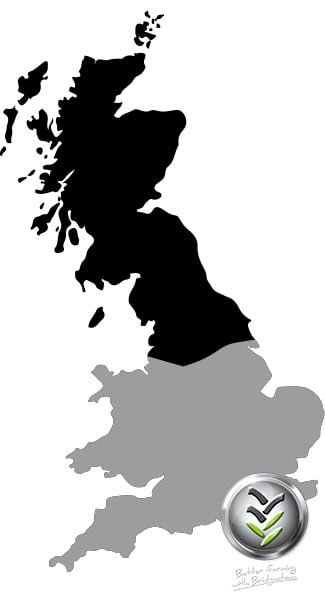 ---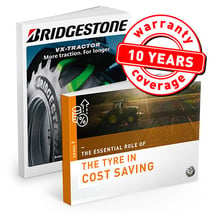 Fill out the formula below
to receive your free guides