With this new tyre, you are guaranteed to get 20% more hours of use compared to your current premium equipment
If your current tyres have lasted you 2,800 hours for example, with the VX-Tractor we can guarantee 3,360 hours.
In fact, we're so confident in this tyre's technological advances that we've launched the BRIDGESTONE VX-TRACTOR GUARANTEE.
meaning you can make your purchase safe in the knowledge your hours of use are guaranteed. If your tyres do not reach the target number of hours, you'll receive financial compensation*.
* Pour un budget initial de 6000€. ** Offer subject to conditions.
We appreciate the fact that replacing your tractor tyres is a complicated decision. How can you make sure you're getting the best equipment for your specific situation at the best price?
It was by analysing your needs that we designed the VX-Tractor, with the aim to push the limits of performance for high-end tyres:
Up to 20% more rubber than its competitors**
Partly made from vegetable oils for greater wear resistance
A reinforced casing that's more durable and resistant to loads
Ultra adapted for mixed use: road/fields
For high, medium and low powered tractors
** Based on internal tests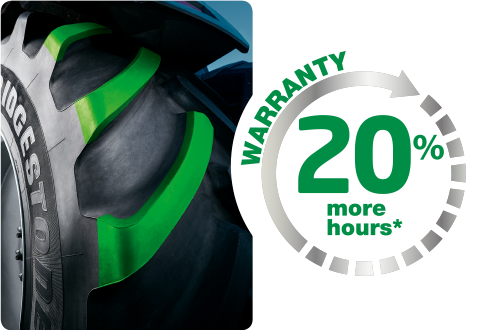 With this new tyre, you are guaranteed to get 20% more done than with your current premium equipment!
To take advantage of this "20% more working hours" guarantee, you must know how many hours you got out of the tyres being replaced. We will then add on an extra 20%, which will be your own target life span for your new VX-Tractor tyres. The guarantee will apply if this target is not reached.
If you're interested in our +20% working hours guarantee, fill in the contact form below and a Bridgestone specialist will be back in touch to talk to you about VX-Tractor
Fill in the form below to receive your free VX-TRACTOR
technical file