It is often difficult to be quite sure that you are respecting the maximum weight that your tractor tyres can bear
How to avoid exceeding the maximum load that my tyres can carry?
What mass should be placed at the front to compensate for the weight of the vehicle without exceeding my tyres' load capacity?
There are many questions to be asked to avoid wearing out a set of tyres every year.
The tyre must be able to adapt to all your activities and to many different types of operations, which is why we are always striving to achieve efficiency and higher performance levels.
We are committed to developing new tyre technologies and to identifying innovative solutions which anticipate and satisfy your requirements in terms of actual use.
The VX-TRACTOR tyre is designed using a casing that is more resistant to load and to the constraints of use in mixed environments (farmyard, road and fields):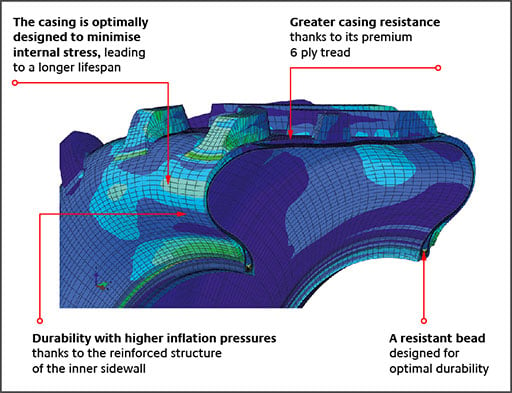 Our research and development centre which houses hundreds or researchers and engineers over 32 hectares close to Rome, in Italy, has developed these new tyres equipped:
with tyre casing reinforced by different layers of textile
with six layers of cross stabilising ply on the tread
with metal cables and metal crosswires which ensure rigidity and increase resistance to high pressure and strain
VX-Tractor tyre
520/70R38 - 155D/152E
2.4 bar - 3 casing plies
6 cross stabilising plies

Standard tyre
520/70R38 - 150D/147E
1.6 bar - 2 casing plies
4 cross stabilising plies
More robust, designed for increased durability, the VX-TRACTOR tyre provides exceptional resistance to damage due to the impacts from your daily work.
Expert tests:
To validate this design advantage we carried out tests, with independent experts, which have allowed us to demonstrate the superiority of the tyre design.
---
The pressure areas (in yellow and red) of the VX-Tractor are better absorbed by the casing which is more resistant to pressure and to load:
| | |
| --- | --- |
| VX-Tractor tyre | Standard tyre |
---
Bridgestone has taken account of your need to improve productivity and has developed the VX-TRACTOR tyre, a global technological solution which makes the technological tyre of the Future a reality as of today.
Research and development are at the heart of our growth strategy and our desire to bring you tyres that are more solid, more lasting and more economic in terms of energy to constantly improve your tractor's efficiency.
Download the full technical brochure now, free of charge, to find out the available sizes based on the width of your rim as well as the load capacities for each size: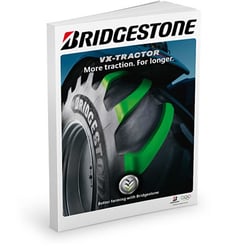 Fill out the form below to receive your free VX-TRACTOR technical brochure